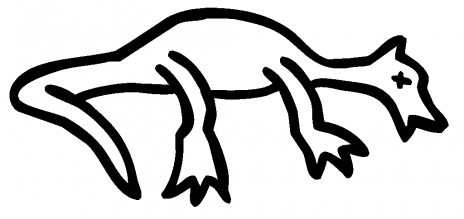 Focus
We celebrate the birth of Jesus, who won the victory over Satan and saved his people.
Faith Nurture Goals
Be introduced to a new perspective on the Christmas story from the Bible.
Feel assured that good is stronger than evil.
Recognize how Christ's incarnation brought light into the darkness.
Consider ways we might "let our light shine."
Leader Reflection
Preparing to Tell God's Story
We like to make Christmas into a cozy family holiday decorated with twinkling lights and evergreen boughs. Our church services too tend to be warm occasions with a special focus on children. There's nothing wrong with this, of course, but it doesn't really help us see what Christmas means on the broad canvas of God's kingdom and human destiny.
The stark colors and warlike imagery of Revelation 12 help us to see it from that broader perspective. The Savior's birth at Bethlehem, with its stable and manger, lies as one episode of a cosmic battle between God and the devil, a battle that continues in our lives and our world today. It's the Star Wars Christmas.
Revelation does not use the language of everyday life, but employs a special apocalyptic language to describe what's going on in the world. Apocalyptic language is heightened language, dramatic language, calculated to help us see the cosmic significance of the seemingly ordinary events of this world.
This is war! War in heaven does not mean war somewhere out in space, far away. It means a war going on behind the scenes of this world and of our ordinary lives. It's a war between God the Creator and Satan the usurper, between God who made the world good and Satan who is out to destroy the good.
In one crucial battle in this war, a child is born to a woman. But this is no ordinary birth. It's a "great and wondrous sign." This woman and this child are very special (note the sun, moon, and stars as decorations around her). Somehow the fate of God's good creation depends on this birth and this child "who will rule all the nations with an iron scepter."
A great dragon appears, powerful and frightening, who intends to devour the child as soon as he is born. But the child is snatched away from the dragon's jaws "to his throne," while the woman flees away to a place prepared for her in the wilderness.
The main theme of this dramatic apocalyptic picture is the defeat of Satan and his angels. Cast down from heaven and knowing his end is sure, the dragon concentrates his rage on the woman (the people of God) and her offspring (Jesus Christ). Although she is protected by the forces of heaven and earth, he persists. Satan wants revenge; he wants blood. He wants to destroy all who "hold fast to their testimony about Jesus."
Unlike Star Wars or any other battle, the victory comes not by our shedding of blood, but by the blood that was shed by Jesus, "the blood of the Lamb." As God's chosen champion, Jesus defeated Satan by his life and his death, and God confirmed it by raising him from the dead. Now he is the triumphant King who reigns in heaven and will come again to reclaim God's creation.
The battle continues in our lives and our time as we carry out a resistance movement against Satan in all his disguised forms. But it's a battle in which we are already assured of victory.
It's an unusual way to think of Christmas, but it helps us to understand the history-bending, world-shaking character of our Lord's birth in Bethlehem.
Wondering
How does this unique language of Revelation make you feel? Does it encourage you to think differently about your life?

What do you think of the way the "woman" is pictured here?

In what ways do you see yourself as involved in this cosmic battle?
Teaching
This unit is intended to be inserted into your schedule near (but before) Christmas Day.

People often shy away from Revelation because it seems frightening and difficult to understand. This chapter, related to the events at Christmas, shows how Revelation helps us see beyond the ordinary to the deeper realities of life.

Above all, the lesson today must invite the young teens to see Christmas as a crucial step in God's battle against the powers of evil. Christ's birth is the promise of our ultimate victory.
Steps
In today's gathering step you'll split your group into pairs to make small murals using newsprint and markers or crayons. Before the session begins, prepare your room by hanging several sheets of newsprint on the walls using sticky tack. Or, if you'd prefer, scatter the paper on the floor around the room, along with markers or crayons. Be sure to test the paper to make sure the markers won't bleed through onto the wall or floor. Arrange enough supplies so that groups of two will be able to work together on their mural.

Get Unlimited Access!
Sign up for DWELL Digital to unlock all online leader resources, printable pages and session plans.
Call 800-333-8300 or Request Access
Already a subscriber? Log In
Learn About DWELL
DWELL helps kids find their place in God's Big Story. Learn more about this popular and trusted children's ministry curriculum.