5
Mary and Martha Learn about Jesus
Session Introduction
Focus
Mary and Martha learn how important it is to listen to Jesus.
Faith Nurture Goals
Express reverence and praise for God and his Word, the Bible.
Imagine Mary and Martha's interactions with Jesus.
Wonder at why Martha was upset with Mary and why Jesus was pleased with Mary's choice.
Spend time with Jesus, listening to him and his Word.
Leader Reflection: Preparing to Tell God's Story
The gospels give us some fascinating glimpses into this family who were so close to Jesus---Mary and Martha and their brother, Lazarus. Jesus visited their house often and seemed to feel especially comfortable with them.
Martha seems to be the mistress of the house. Whether she was a widow who inherited her wealthy husband's property and or as the eldest, ran the family home, we aren't told. Mary is clearly the younger sister and follows Martha's direction and guidance.
Many of us can identify with this familiar domestic situation. Martha is busy preparing dinner for Jesus and his disciples. We can almost hear the clatter of dishes and the banging of pan covers. She wants to honor her guests by serving them a wonderful dinner. Martha is busy and distracted. Having a dozen or so unexpected guests can do that. Imagine yourself asking a spouse or an older child to please stop chatting with the guests---something you'd like to be doing yourself---and help you serve. You know the feeling.
While all this is going on, Mary sits at Jesus' feet listening to his conversation. Sitting at the feet of a rabbi was the traditional position for a disciple, and in Jesus' day women were simply not disciples. They were expected to serve, not to learn. So what Mary was doing would certainly be considered inappropriate.
Finally Martha has had enough. She doesn't whisper to Mary, "Please give me a hand." Rather, she goes to Jesus and makes the matter very public.
Obviously Martha felt that Mary was doing something inappropriate and that Jesus should not encourage her. In a sense, she was publicly rebuking Jesus. "Don't you care?" she asked him. There are very few cases in the Bible where someone was bold enough and intimate enough with Jesus to feel free to scold him in front of everyone. You could cut the tension with a knife.
Jesus' reply to Martha is gentle and mild. Repeating her name, as he does, is a sign of affection.
Yet he defends Mary. Martha, he says, you are letting many things upset you. The meal may be late or not as elaborate as you wish---but that's not important. Mary has chosen to listen to me and to learn from what I say, to sit at my feet as a disciple and ponder my words. That's good, and you should not take that from her.
Martha is not being reproved here for serving. The point is that she is trying to make Mary conform to her ideas of what is proper social behavior. In the same way that Jesus elevated little children from being non-entities to being central to God's kingdom, Jesus here elevates a woman to the place and status of a disciple.
Jesus is also commenting on the relative importance of Martha's busy mealtime activities and Mary's rapt attention. Jesus says that Martha is worried and upset about many things, but only one thing is absolutely necessary. Mary's focused attention on Jesus words is the one truly necessary activity, "and it will not be taken away from her." It has eternal significance.
Session Plan
Complete session plans and leader tips are available in our printed leader guides or via a digital subscription. See Leader Resources.
Not a Dwell user yet? Download free sample sessions.
Leader Resources
Children's Resources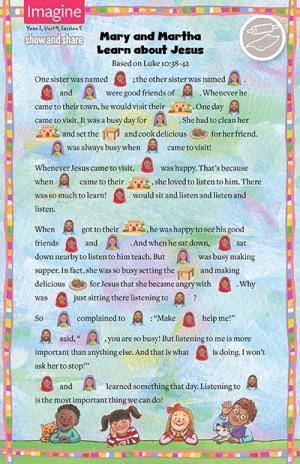 Dwell's colorful, engaging resources come in a variety of formats designed for use in church and at home.
Order them here.
Story Symbols
Optional: Set of color prints on card stock.
Order it here.