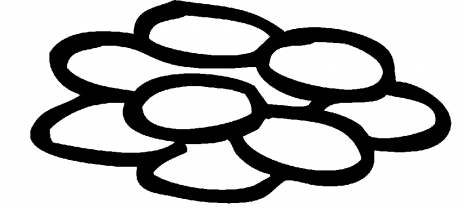 Focus
God, the almighty Creator, is also my faithful Father, whom I can trust to provide whatever I need.
Faith Nurture Goals
Discover what the manna story tells us about God.
Name with gratitude the ways God provides for all of our needs.
Trust God to continue to care for us.
Leader Reflection
Preparing to Tell God's Story
As we begin to move through the Apostles' Creed, the dominant theme is that we can trust in God as our heavenly Father to care for us and to provide whatever we need "for body and soul."
If you look at the creed, it would seem that we know far less about God the Father than we do about God the Son. Of course, that isn't true. The fact is, we know the Father through the Son, who, Paul says, is the "image of the invisible God" (Col. 1:15).
The description of God as the Father permeates this portion of the creed and this session. It comes from Jesus calling God his Father and inviting us to do the same. In fact, he invites us into precisely that relationship with God. Of course, God is not our physical father, nor was he Jesus' physical father (Jesus' physical nature came through his being born of Mary through the Holy Spirit). Rather, the Bible uses the metaphor of fatherhood to describe the relationship between the one we call God and Jesus, whom we call "the Son." After all, we can only understand God through some kind of human relationship.
Fathers play various roles in human life---provider, protector, authority figure, spiritual and moral guide. The Heidelberg Catechism, on which Q&A: A Summary of Biblical Teachings is partially based, emphasizes the role of caregiver. God the Father provides for our needs, even the most fundamental needs of food, shelter, and clothing.
In Exodus 16, God has rescued his people from slavery in Egypt and set them on the road to freedom. Now, in the wilderness, they are as helpless before the harsh elements as a newborn baby. God guides them with a pillar of cloud by day and a pillar of fire by night. But soon they need food, and, like infants, they cry out---or in this case, they grumble and complain.
It's then that the Lord provides them with quail and the mysterious substance called manna. So, each morning when they gathered their food for the day, they learned to depend on God. Through this experience, the Israelites began to learn that God could be trusted to provide what they needed. That's why we have come to call this teaching the doctrine of providence .
Jesus echoed this wilderness experience when he fed the crowds of people in the wilderness. He not only fed them physical food in abundance but taught them to see him as the true "bread from heaven," the food of everlasting life (John 6:35). In Christ, God provides all that we need for body and soul.
Trust is the theme of this session. God is not only the one who provides for all our needs but also the one who wants to provide for us. Notice, it's not for our wants but for our needs---that which is truly best for us.
Wondering
How do you feel about the image of God as Father?

Do you struggle with trusting in God's provision for your needs?

What similarities do you see between your story and the story of the people of Israel in the wilderness?
Teaching
Be sensitive to any children who may react negatively to the idea of God as Father. Some may have had very negative experiences of fatherhood. They may wonder, "If God is like my father, why should I trust him?" Carefully acknowledge their struggle while you help them to see God as the model of what earthly fathers should be like.

A story about your own journey of trust in God's fatherly care will help make this idea very concrete and accessible.
Steps

Get Unlimited Access!
Sign up for DWELL Digital to unlock all online leader resources, printable pages and session plans.
Call 800-333-8300 or Request Access
Already a subscriber? Log In
Learn About DWELL
DWELL helps kids find their place in God's Big Story. Learn more about this popular and trusted children's ministry curriculum.